LPS Pavement Company offers durable, versatile paving systems, professionally installed for long-lasting beauty and enhanced property values. From traditional to contemporary projects, LPS Pavement Company will create an elegant look with all the strength you'll ever need. Give your buildings a firm foundation with paving innovations from LPS Pavement Company.
The variety of shapes, colors and sizes provide for an expression of individuality to blend with any building or architectural style.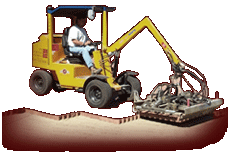 The economical, durable and aesthetic qualities of paving stones provide the evidence that has made them the market leader for LPS Pavement Company.

First ICPI Lifetime Achievement Award
Bill Schneider, was recently honored with the Lifetime Achievement Award by the Interlocking Concrete Pavement Institute (ICPI) at its 20th anniversary celebration held in March in New Orleans.